Eggplant Production in the Lower Fraser Valley
About this brief
This brief is based on one year of field trials completed in 2017. 
Introduction
The purpose of this study was to establish the most efficient methods of production for Asian eggplant in the Lower Fraser Valley (LFV). Diversification of crops grown in this area will help to ensure that the sector remains sustainable in the future, both economically and environmentally. 
Researchers chose Asian eggplant for this study as a response to growing ethnic populations in the area (including South Asian, Asian and Persian) that consume it as a staple vegetable. Eggplant is currently imported year-round from Central America, but by establishing efficient production means in the Lower Fraser Valley, it has the potential to contribute to the economy and feed local communities.
Research Process
This trial was done to determine the combination of eggplant variety and tomato rootstock that would produce the highest yield. Two varieties of Asian eggplants were used in this experiment: Asia Beauty and Long Purple. The young eggplants were grafted onto four different tomato rootstocks that are tolerant to Fusarium, a fungal pathogen, and these seedlings were planted 30 cm apart in holes punched into black plastic covered raised beds (see Figures 1 and 2). Grafted eggplants were buried as close to their graft point as possible.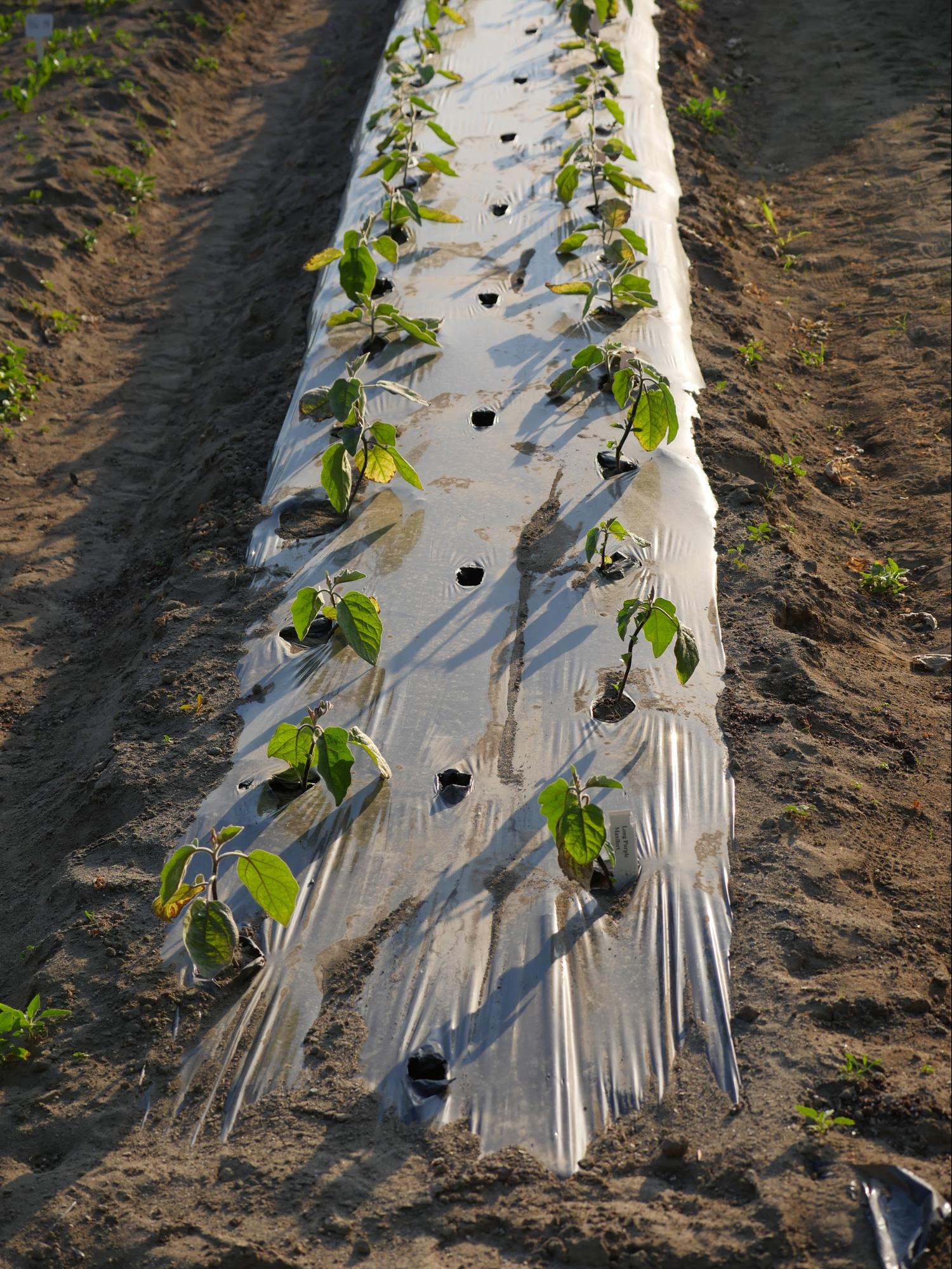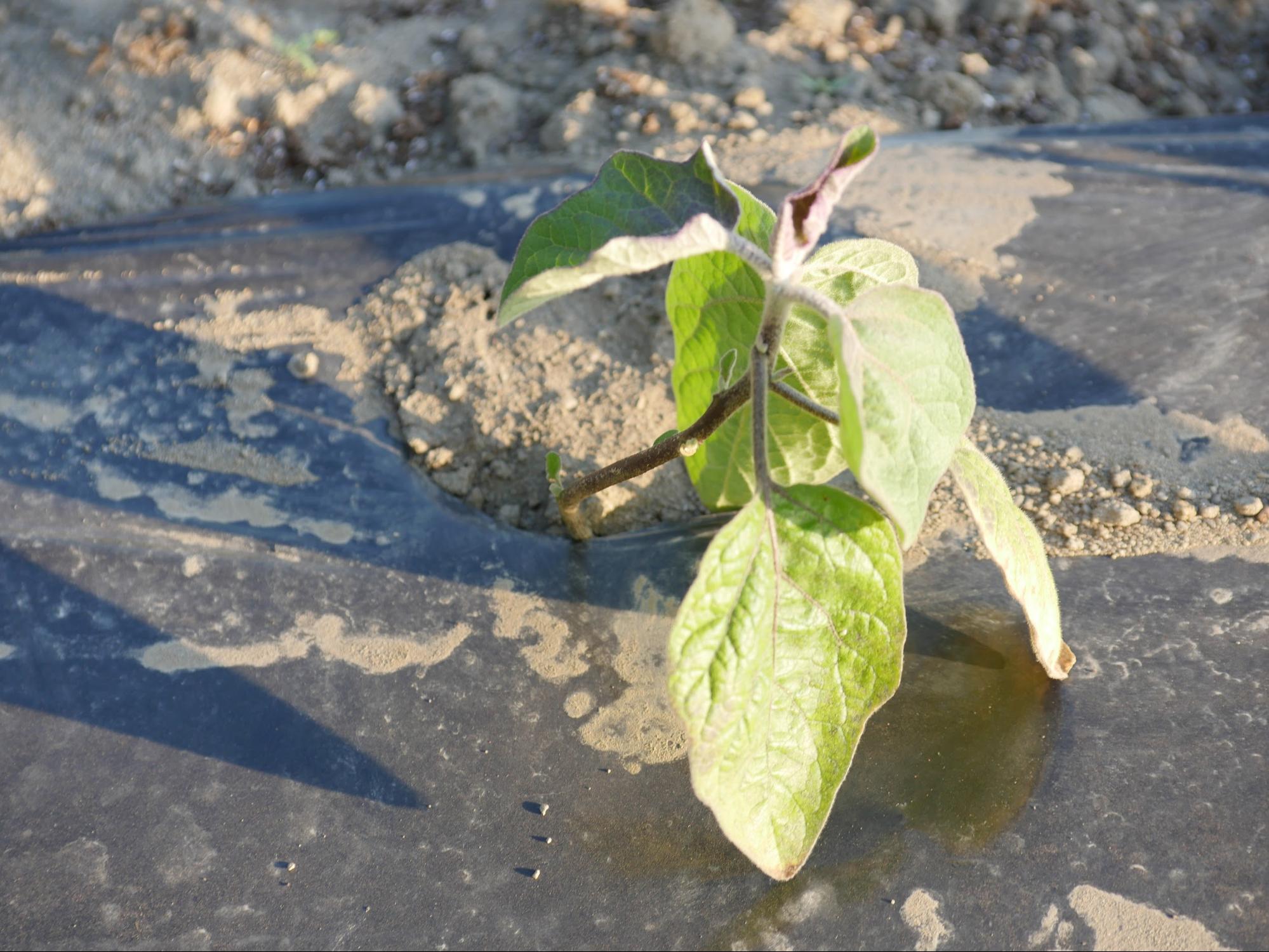 The Abbotsford eggplants were planted on July 16 and staked on July 27. Leaves were heavily pruned below the first flower on July 7, and the field was irrigated overhead. The plants were fertilized with a 20-8-20 mix at a rate equivalent to 5 kg/ha once fruit production began, and this was applied by hand-watering. Pests and diseases (mostly thrips, spider mites and cutworms) were monitored on a weekly basis, and plots were sprayed as needed. Eggplants were hand harvested using shears once they reached the size requirements for each specific variety. The fruit was harvested 1-2 times a week depending on production, peaking from mid-August to early September.
Results
Researchers found that the Asia Beauty variety produced a much higher yield than Long Purple. The different rootstock varieties did not affect yield, however grafting was shown to have a positive impact on yield when compared to a previous study on ungrafted eggplants. Staking and aggressive pruning of eggplants resulted in less disease and damage in the fruit by preventing it from curling under its weight and coming in contact with insects while laying on the ground. Researchers believe that weekly drip fertigation can further increase yield.
Implications
Successful eggplant production is feasible in the Lower Fraser Valley with the use of various agronomic practices. Eggplants should be grafted on tomato rootstocks for the best results. Staking and aggressive pruning were found to increase eggplant yield, and weekly fertigation (fertilization through drip irrigation lines) is believed to also have a positive impact on yield. The Asia Beauty variety produced much more than Long Purple, and the rootstocks used did not have an impact on production.
About this Research
Sponsors and partners include Investment Agriculture Foundation, Lower Mainland Horticulture Improvement Foundation, Real Estate Foundation of British Columbia, and UFV's Food and Agriculture Institute. 
You may be interested in: