Okra Production in the Lower Fraser Valley
About this brief
This brief is based on one year of field trials completed in 2017.
Introduction
The purpose of this study was to establish the most efficient methods of production for okra in the Lower Fraser Valley. Diversification of crops grown in the Lower Fraser Valley will ensure that the sector remains sustainable in the future, both economically and environmentally. 
Researchers chose okra for this study as a response to growing ethnic populations in the area (including South Asian, Asian and Persian) that consume it as a staple vegetable. Okra is currently imported year-round from Central America, but by establishing efficient production means in the Lower Fraser Valley, it has the potential to contribute to the economy and feed local communities.
 
Research Process
This study looked at the impacts of covered low tunnels on okra yields. Six okra varieties were tested, and these were: Darota, Clemson, Jambalaya, Lucky Green, Elisa and Beendiya. Seedlings were grown and fertilized in a greenhouse, then transplanted into field plots in Abbotsford in the middle of June 2017. The seedlings were all planted in holes punched into black plastic covered raised beds, and half of each seedling variety was covered (see Figure 1). Reemay-style cloth covers were used, suspended over metre-high metal hoops spanning the plots (see Figure 1). Per-acre yields were converted from the plot yields to determine the success of each variety and growing condition. 
Figure 1:  Row of okra, with half of each seedling variety covered, and half uncovered.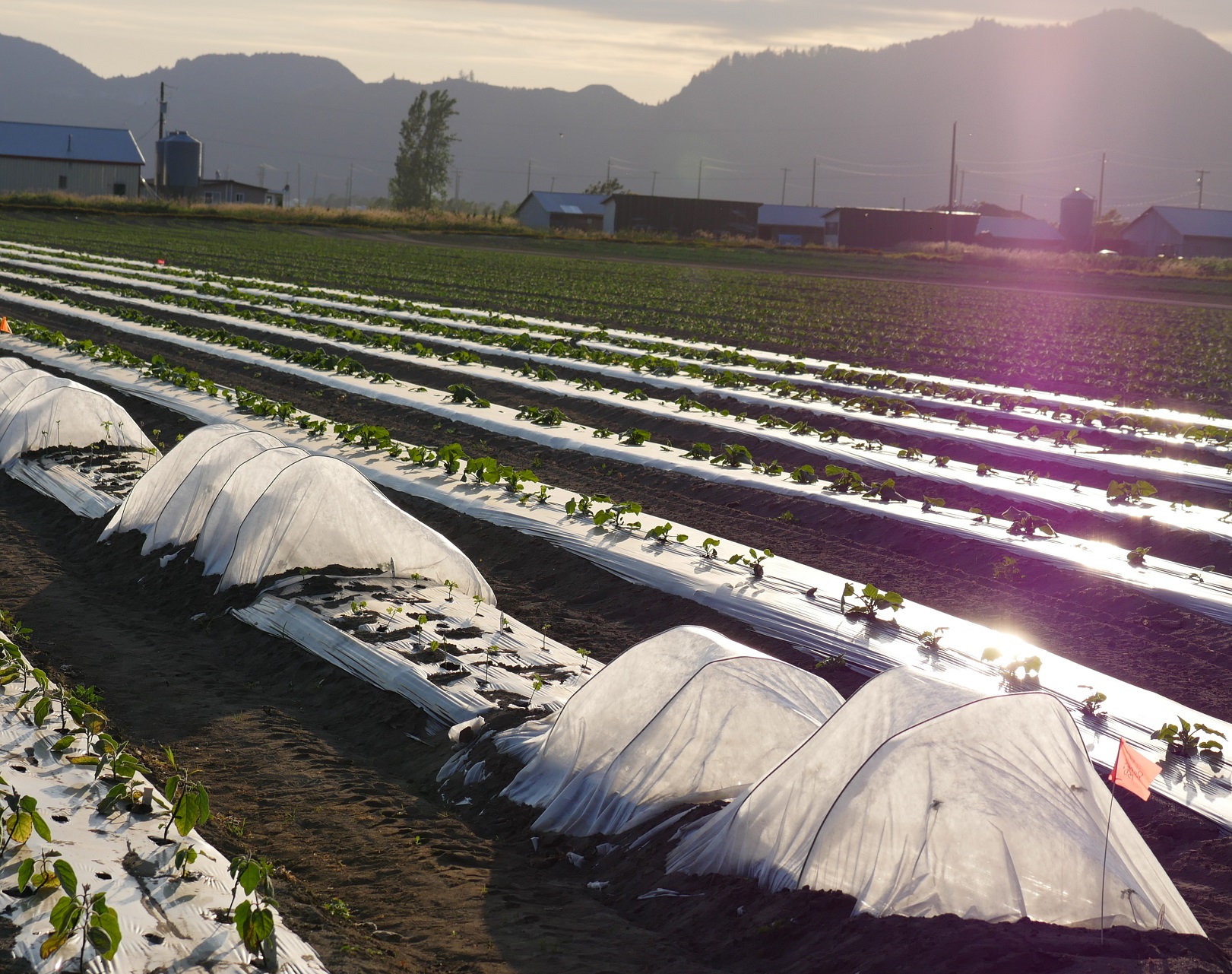 Plots were irrigated overhead, and 20-8-20 fertilizer was applied after fruit production began at 5 kg/ha. Pests and diseases (mostly aphids and thrips) were treated for as needed and covered plots had their covers removed on August 1st for a total of six weeks of cover. Harvest frequency depended on production, and peaked between mid-August to early September. The fruit was hand harvested two to three times per week using shears, and damaged fruit (deformed, insect- or disease-damaged) was discarded.
 
Results
As expected, the okra plants grown under cover were visibly larger than the plants grown without cover. There was an increased presence of aphids on covered plants, but these were easily managed with a pesticide. There was no difference in yield between the different varieties of okra, however the only variety that is readily available from local seed suppliers is Jambalaya. Overall yields were lower than what was achieved in an earlier version of this study that was fertigated (fertilizer applied through irrigation), suggesting that this form of fertilizer application is most efficient for the crop. Flowers and young pods that were exposed to rain did not develop into fruit, so one area of interest is the extension of the growing season in the fall, when the Lower Fraser Valley experiences more rainfall. 
 
Implications
There are a number of agronomic practices that can be adopted to increase the efficiency of okra production in the Lower Fraser Valley. Low-tunnel covers can improve yield greatly and reduce fruit loss at the end of the growing season, so long as producers manage pests effectively. Okra variety was not a factor in efficiency, however the only one readily available to local growers is Jambalaya. Fertigation can greatly improve yield but is not a widely used practice in the Lower Fraser Valley currently. This is probably the biggest barrier in expanding the production of this crop. 
Sponsors and Partners
Sponsors and partners of this research include the Investment Agriculture Foundation, Lower Mainland Horticulture Improvement Foundation, Real Estate Foundation of British Columbia, and UFV's Food and Agriculture Institute.
 
You may be interested in: