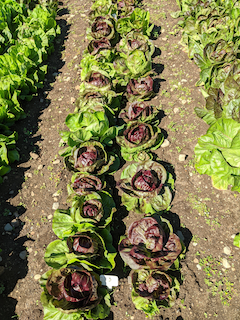 Submitted by Chris Thoreau and Solveig Hanson, FFCF & UBC
British Columbia has long had an active community of organic vegetable seed growers, and for good reason. BC's climate is optimal for the production of cool-season and biennial vegetable seed crops, and good-quality seed of a great many vegetable species is produced here. In these favorable conditions, a community of 17 small-scale seed companies has taken root, for decades providing BC gardeners with organic vegetable seed through "Seedy Saturday" and "Seedy Sunday" events, one-day annual seed fairs in over 60 BC communities. Due to the COVID-19 pandemic, a province-wide Seedy Saturday was held virtually in February 2021. Both in-person and virtual Seedy Saturdays engage farmers and gardeners in local seed sourcing, offer educational workshops on seed saving and plant diversity, promote local seed producers, and provide a forum for the exchange of ideas and growth of community.
BC is also home to hundreds of organic farms which purchase over $7.6 million dollars worth of organic and ecological seed annually, accounting for 27% of the national market. Increasing consumer demand for organic produce is driving farmer demand for increased quantity and quality of organic seed. As seed growers seek to shift production from garden scale to farm scale, research and market development opportunities have arisen, including: regional adaptation and climate change mitigation, variety selection, economic viability, crop breeding for organic systems, appropriate-scale seed processing techniques, regulatory impacts on seed production, seed quality assurance, and community engagement through participatory research.
The UBC Farm is engaged in organic seed research through the UBC Farm Seed Hub and the Canadian Organic Vegetable Improvement Project (CANOVI), a participatory research collaboration with the Canada-wide Bauta Family Initiative on Canadian Seed Security, regional partner FarmFolk CityFolk, and farmers throughout Canada. CANOVI seeks to identify and develop vegetable varieties that excel in and increase resilience of  Canadian organic farming systems. Kwantlen Polytechnic University is a CANOVI participant, and their seed lab facilitates further research and quality testing of seed. The University of the Fraser Valley is collaborating in a CANOVI red carrot breeding project. The BC Eco Seed Co-op, established in 2014, helps seed growers get their seed to market and provides training and mentorship opportunities. Together with organic farmers, these groups are leading the way in BC organic seed research.
Current research around organic seed production in BC is doing more than building a market for organic seed; it is also helping strengthen seed's role in building a resilient food system in British Columbia. The COVID-19 pandemic has demonstrated a growing public consciousness around food and seed security issues, and seed growers have seen an attendant increase in demand for their seeds. The BC seed community brings a strong history of creativity, resourcefulness, and mutual support to the rapid economic, social, and climactic changes of these times. We hope that the information and perspectives shared here can help to foster seed and food system resilience across BC and beyond.
1. Carrot plants are caged and insect pollinated during the winter to make seed for summer planting. This carrot population was selected to meet BC farmers' priorities:  long storage, sweet flavor, blunt-tipped Nantes shape, and regional climatic adaptation.
2. Chris Thoreau, CANOVI Research Assistant, selects red carrots for deep red colour, uniform shape, and lack of disease. Roots will be vernalized (stored at cold temperatures to simulate winter) before greenhouse seed production. BC red carrot breeding is a collaborative effort including CANOVI, FarmFolk CityFolk, University of the Fraser Valley, and local farmers.
3. Vegetable growers participating in the CANOVI project prioritized radicchio for on-farm variety trialing in 2020 and 2021. As radicchio gains popularity among chefs and consumers, collaborative variety trialing offers growers a chance to test new varieties, share results, and build community knowledge around this crop.
Partnered Associations / NGOs